The best #travel #hashtags to use and how
Hashtag– Twitter introduced Hashtag in 2007. Adding right Hashtags to your posts can help you boost more views, likes, follow and comments. If you want to be a travel blogger and if you want more followers, scroll down to know how to use the best Hashtags to get in light.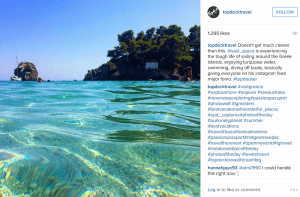 Why should we use Hashtag
Many of us doesn't know WWH(Why, Where & How) to use Hashtag. They are used to draw attention and to promote the brand/page. It is used on social media, to make search easier and find the exact information the people are looking for. If you want to know more about hashtags, head over to Instagram Hashtags 101.
How to find the Hashtag
Just type #(Hashtags) followed by a keyword to find the information you are looking for.
Number of Hashtag to be used and why
Using excess of # will make the content look irrelevant. Content with relevant Hashtag will increase the visibility. Adding more # per message on social media will lower the engagement.
Most popular travel # used
10,000,000 photos are tagged with the following travel Hashtag
#travel#adventure#wanderlust#vacation#travelgram#explore#holiday#travelers#travelbag#travelholic#travelersnotebook#travelblog#travellife#travelpics#travelgirl#travelasia#travelmore
Advice to use the less popular (#) and why
Our advice is to use less popular Hashtag because many people use popular Hashtag so there are less chances of your posts to be seen for eg. #Wanderlust has 74,702,986 posts, something like #Wanderlusttribe has 90, 585 posts so using less popular Hashtag might get ranked as top post.
Hashtag getting featured by larger accounts
Here are some popular hashtag to try and get featured by larger accounts.
#TravelStoke#BestInTravel#TheGlobeWanderer#TravelDeeper#Worlderlust#TravelAwesome#TravelDames
Travel hashtags for media and instagram contests
#LP (Lonely Planet)
#traveldeeper (AFAR media, voted as the best travel magazine in USA)
#dametraveler (female travelling feed which repost as well)
#roamtheplanet (popular travel community)
Hashtag Location
Always dedicate a few hashtags to where you currently are because people are always looking through hashtags to see what might be going on in a certain part of the world.