PMS and Channel Manager
The internet is touching every aspect of doing business, opening new markets and sectors to conduct business which wasn't possible before. In the same way, it has changed the hotel industry. Due to internet surge properties are more successful. Integrated PMS and Channel Manager are now necessary to improve the overall performance of your property. According to Statistic Brain, the revenue from online booking for hotels and travel packages has grown by 75% in last five years.
The impact of the internet is bringing more bookings to the big as well as small-medium segment hotels. Furthermore, the advancement in hospitality technology and implementation of Channel Manager and PMS is totally modifying the industry.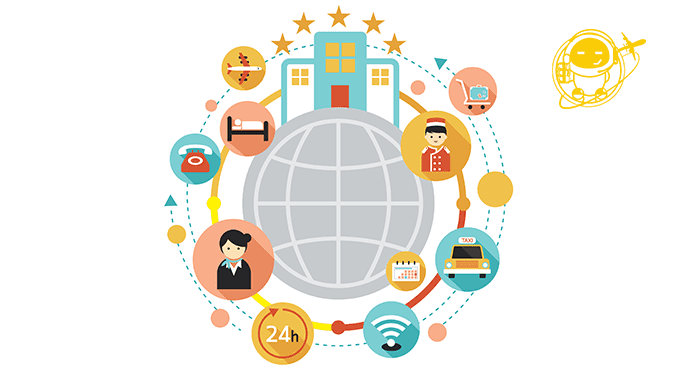 It has become easier for the hotels to manage room bookings and distribution across multiple channels. A margin of error due to manual booking has come down to minimal. Hotels can now manage properties on multiple OTAs in a single click and other tasks such as bill management, reservations and cancellations have become easier. Ease of managing a property and daily operations give the higher opportunity to the management to give the better experience to their guests.
At AxisRooms we provide a complete suite of technology as per you hotel requirement. We help to manage your inventory and property on different OTAs as well as help you to stay ahead of your competition.
Property Management System(PMS)
A PMS system makes the daily operations easier for the hoteliers and provides daily activities on a single dashboard. Hoteliers can manage hotel reservations, guest information, billings and other daily operations. PMS system required minimal or no IT support team or hardware as the system is fully cloud-based. At AxisRooms we provide integration with 39 PMS integrators. Once you are connected with PMS you can also connect with AxisRooms channel manager to drive direct booking to your hotel.
Channel Manager
With AxisRooms Channels Manager, you can manage prices, inventory and bookings across all online channels in real time. Our Channel Manager also helps integrations with many travel websites. We have integrated with a wide network of travel partners. This means managing all your listings in a breeze. The dashboard gives you a view of your entire inventory and removes double booking. You can update the price once and sync it with all connected OTAs through Channel Manager.
Our Channel Manager won HotelTechAwards, Top Rated Channel Manager 2018. Improve your control over properties and boost booking using integrated PMS and Channel Manager.