GoStays: Goibibo's budget foray!!
Arjun Ramesh runs a 35 rooms property just a few meters, off the popular MG Road in the heart of Bengaluru. One meeting over a hot cup of filter coffee with him & you'll be pleasantly struck with the passion & pride he takes in running the hotel he built brick by brick.  Walk in to his tastefully designed coffee shop at 9 AM & you're sure to run in to him overseeing breakfast service, smiling & interacting with any guest who's happy to have a conversation – "Try our Mysore Masala Dosa" he says. "It's our trademark specialty!"
Nikita Desai's Facebook cover has a candid picture of a family enjoying a happy moment by the poolside of her hotel in Goa. "My father built this property in 2006 while I was still in college" she says. Today, Nikita operates 4 hotels in Goa that have the family name. "My dream is to have a hotel on every popular beach in Goa in the next 5 years!"
If you are reading this and you own or operate a hotel in any part of India, we are sure you have a great story to tell like Arjun & Nikita. Delighting your guests & running the operations of your hotel smoothly with ease must have become like second nature to you!
But, many like Arjun & Nikita are faced with one big challenge – conveying USP of the hotel in an extremely competitive market where several different hotels compete for the same potential customer. As a result, it is crucial that your hotel is visible and you are able to differentiate it from your competition. And, to be able to do this by continuously building your brand (Or do I say – without diluting your brand !!)
Well, we have the answer to this big puzzle that you want to crack! Get your hotel goStays Certified by Goibibo, India's leading travel portal focused on promoting great value hotels across the country.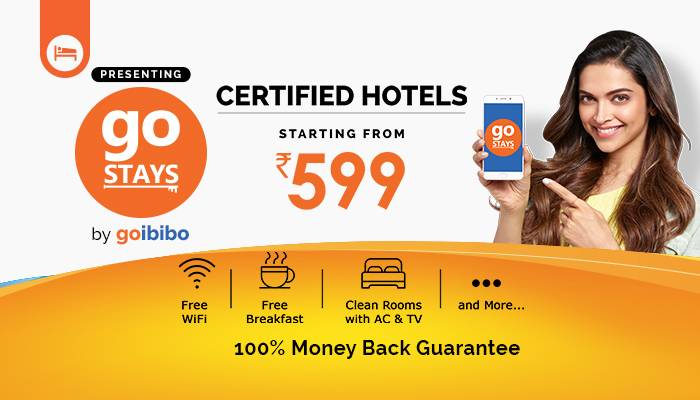 As a goStays Hotel, you establish 'trust' in the minds of millions of customers looking to book your hotel for the first time and get them to come and experience your brand & hospitality. This Premier Certification Program of Goibibo has been delivering phenomenal room nights & growth since many quarters for hotel partners.
Benefits to your property further include:
Marketing campaign – An ongoing high decibel TV advertisement campaign featuring Deepika Padukone leading to increased brand awareness of goStays certified properties
Content improvement & professional photo-shoot of each goStays property leading to higher sales & conversions of the property
Point of sale branding – goStays board on the hotel façade ensuring high brand recall & higher visibility for goStays certified properties
Higher promotional spend – Each goStays certified hotel enjoys a higher promotional expenditure vis-à-vis its competition on the Goibibo app & website, leading to more room nights
Working capital assistance in the form of MIB for Select goStays Hotels
Free of cost Channel Manager , PMS, Website & Booking Engine for our Gostay Hotels
goStays certification :
For a hotel to be listed under goStays, the hotel partner has to provide assured promises: AC, TV, Free Wi-Fi, accurate location & clean rooms along with 100% Money back guarantee in-case of non-fulfillment of any of the above promises. Verification for a goStays certified property includes continual inspection & professional photography session that adheres to 50-point exhaustive check-list. In addition, there is continual churn of properties faltering on the goStays proposition ensuring that the hotel partners are absolutely committed to giving customers a top of the notch stay at its certified properties.  This further helps customer to instill unparalleled trust in goStays properties.
The Stakes for goStays
There is plenty riding on the success of goStays for brand Goibibo. It has already created a niche for itself by helping consumers to give offerings like Free cancellation till check-in, a first in the industry & choices like 6am early check-in as well as foraying into couple friendly category. News is also ripe that goStays also wants to launch category "preferred by women" to tap into the crucial Women segment.
We are already seeing glimpses of a robust budget brand in the making with goStays now offering over 2 lakh rooms from this October across 600 cities in India in highly fragmented & price sensitive market like India.
Our takeaway is clear- goStays is poised to post strong customer growth along with repeat purchase for its suppliers. !!!